" Table d'hôte" menu
After a day in the souks and museums, our guests will welcome the delights and relaxation of our table d'hôte. We offer a typical Moroccan menu served between 7 pm and 9 pm, in the patio, the dining room or the terrace.

Reservations are necessary at least 24 hours in advance. According to the season, daily market and your wishes, our chef Samira will be happy to prepare a menu such as :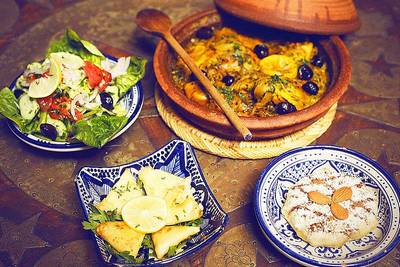 STARTERS

MAIN COURSE

S

DESSERTS

crudités and salads
chicken pastilla
homemade moroccan pastries
briouates
tajine of chicken with preserved lemons
moroccan pancake with honey
Harira soup
tajine of lamb with sweet prunes
fruit salad
tajine of vegetables
tajine of fishes
couscous of vegetables
couscous chicken or lamb
berber tajine
20€ per person (starter + main course + dessert) - drinks additional.